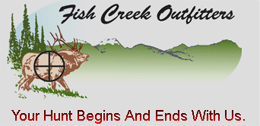 Fish Creek Outfitters is a small but personal Colorado outfitter offering fully outfitted drop camps for mule deer and elk. Brian has been hunting this area of the San Juan Mountains of southwestern Colorado for many years and knows the area well. Throughout the years, he has come to appreciate the intense satisfaction that goes along with the do-it-yourself type hunt. If a client requests it, he still offers some guided elk hunting and deer hunting. However, he prefers to provide his clients the opportunity to experience the Colorado high country on their own from one of seven wilderness drop camps.
Fish Creek Outfitters operates their deer and elk camps within the boundaries of unit 78 where hunters and their gear are loaded onto well trained horses and packed many miles into the Colorado wilderness. Here they will find camp already set up and waiting for their arrival. Once in camp, Brian will offer suggestions and recommendations on where the elk and deer can typically be found, but where and how to hunt is limited only by your knowledge, experience, and sense of adventure. These camps are strategically placed to maximize the hunters opportunity for success and since he seldom books guided hunters you can be sure that he will not be keeping any secrets.
With all of the drop camp hunting that he offers, there is one type of guided hunt he is always willing to book. For the hunter lucky enough to draw a bighorn sheep permit in Unit 31, Fish Creek Outfitters is ready to provide the necessary knowledge and services. Brian knows this area well and where to find the sheep. If you have put in the time to draw the permit, Brian is ready to help make your hunt a success.
Colorado License #2772
Species and areas hunted
Deer
78
Elk
78
Bighorn Sheep
31

Check out their website at Fish Creek Outfitters or contact HuntersTrailhead for more details.

Back to Colorado Hunting Guides