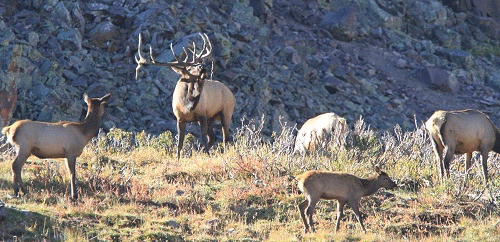 Frazier Outfitting is a premier Colorado outfitter and hunting guide running their operation within the boundaries of unit 76. This unit is well known for producing better than average bull elk and some exceptional mule deer as well. Drawing an elk permit for unit 76 requires a good number of bonus points, but the wait is well worth it. Trophy class bulls are taken from this area every year and Frazier Outfitters certainly takes their share. Their clients have routinely been awarded the annual Best of Species award from the Colorado Outfitters and Guides Association. In fact, no outfitter has won more of these awards in unit 76 than Frazier Outfitting. Sammy Frazier has been elk hunting and deer hunting in this area for over 20 years and has maintained an exceptionally high success rate for his clients regardless of which weapon they choose to hunt with. From the early season archery hunts in September on through the last rifle season in November, his clients have been provided with some exceptional hunting opportunities.
All of Frazier Outfitters hunts are conducted via horseback deep into the mountains of the Rio Grande National Forest. Depending on time of year, animal movements and weather conditions, the pack ride into camp takes the hunter up to elevations between 8,000 to 11,000 feet. Hunting is conducted from tent camps that are set near to where the elk and deer are typically found. Since these camps are set amongst the elk and deer, you will be hunting as soon as you leave camp. For those hunters wanting more of a do-it-yourself type hunt, there are a few semi-guided or drop camp options available.
Frazier Outfitters also offers moose hunts there in unit 76 as well as bighorn sheep hunts in unit 33. Both of these species are found regularly through out the course of their elk or deer seasons. Because the permit to hunt a moose or bighorn sheep in these areas are so difficult to draw, hiring a knowledgeable outfitter can mean the difference between taking home a real trophy or ending up with an unfilled tag. Frazier Outfitters can certainly help insure that you have a successful and enjoyable hunting experience.
Colorado License #1738
Species and areas hunted
Deer
76
Elk
76
Moose
76
Bighorn Sheep
33

Check out their website at Frazier Outfitting or contact HuntersTrailhead for more details.

Back to Colorado Hunting Guides