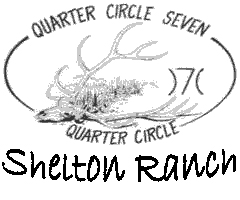 The Shelton Ranch is located in northwestern Colorado in some of the best mule deer habitat the state has to offer and some exceptional bucks have been taken by hunters on this ranch. The Shelton Ranch is also positioned in the center of the migration route the elk take to get from their summer range to their winter range. A late season elk hunt could have the hunter looking over hundreds of elk while searching for that one special bull. The guided deer hunters on this ranch have enjoyed a 100% success rate for several years running and the elk hunters have also enjoyed extraordinarily high success rates typically ranging between 60% and 70%.
The Shelton Ranch encompasses over 7,000 acres of private land that is adjoined to 30,000 acres of huntable BLM lands. Hunters stay in the comfortable Shelton family lodge with full accommodations. Hunters will be guided by Shelton Ranch owner/operator Pete Shelton or his son Paul. Both of these men know every inch of the ranch and the habits of the mule deer, elk, and pronghorn living there. The hunting day will begin at the lodge with a full breakfast before heading out for the day. A 4x4 truck will transport you to the hunting area where you will spend the day glassing the slopes, valleys and ridges for your animal. After a hard day hunting, relax by the fire in front of the TV, soak in the hot tub, play a game of pool or hit the bed early. There are no sleeping bags on the hard cold ground here. You will end the day by climbing into a warm comfortable bed where you will awake the next day ready for another day hunting for your trophy.
Although some licenses must be drawn through the Colorado Division of Wildlife, other tags can be purchased over the counter. If you are an archery hunter, you can pick up your elk permit from the local license vendor once you arrive at the lodge. The second and third rifle hunts also offer over the counter licenses. To hunt mule deer, you will need to draw, but even these licenses are not too difficult to acquire. Except for the fourth season, one preference point will typically guarantee a permit and most applicants with 0 points have historically been awarded a tag as well. Due to the exceptional quality of pronghorn bucks on unit 11, drawing a tag can require many years of commitment. However, the Shelton Ranch frequently has landowner tags available. So if you are looking for a hunt that can be taken this year, whether it is for deer, elk, pronghorn or a combination of the three, the Shelton Ranch probably has the hunt you are looking for.
Colorado License #2673
Species and areas hunted
Deer
11
Elk
11
Pronghorn
11
Black Bear
11

Check out their website at Shelton Ranch or contact HuntersTrailhead for more details.

Back to Colorado Hunting Guides