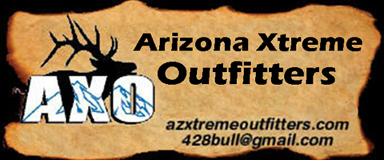 With well over 40 years of guiding experience, Arizona Xtreme Outfitters service have been guiding archery and rifle hunts for elk, mule deer, coues deer, bighorn sheep and antelope in Arizona's top units for years with great success. It is their policy that when a client finishes their hunt, that guide will then go help a different client. This way, it is very possible that you will end up with multiple guides working to help you find the best possible trophy.
Whether the tag you have drawn is for deer, elk, bighorn sheep or pronghorn, whether you will be hunting with a bow, rifle or muzzleloader, Dusty and his guides have the experience and knowledge to provide you with the hunt of a lifetime. Many past clients can attest to their skills and abilities. Hunters with AXO can be assured that their hunting area will be thoroughly scouted prior to the season and in most cases trail cams will have been set for weeks ahead of opening day.
Hunts with Arizona Xtreme Outfitters are booked as 1x1 but 2x1 are also available if that is what a hunter needs. Very comfortable and well stocked camps are available to those wanting a fully outfitted hunt. However, there is also the guide only option for those hunters that would prefer to provide their own accommodations and meals.
Species and areas hunted
| | |
| --- | --- |
| Elk | 5, 6, 7, 8, 9, 10, 22 and 23 |
| Mule Deer | 5, 6, 7, 8, 9, 10, 12, 13, 22 and 23 |
| Coues Deer | 5, 6, 8, 22 and 23 |
| Pronghorn | 5, 6, 7, 9, and 10 |
| Bighorn Sheep | 9, 10, and 22 |

Check out their website at Arizona Xtreme Outfitters or contact HuntersTrailhead for more details.

Back to Arizona Hunting Guides