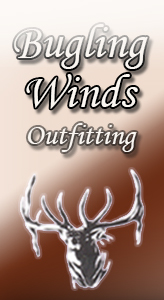 Bugling Winds Outfitting a small family owned and first class outfitting and guiding operation located in the famous Fitzpatrick Wilderness southeast of Dubois, Wyoming. They specialize in hunting elk, big horn sheep, moose and deer.
Their camp is accessed by a 26 mile horseback ride into the Wind River Mountains. This virtually exclusive location is a big part of their success. Nestled in a very remote part of the Fitzpatrick Wilderness, other hunters are seldom seen due to the time and effort required to access this location. They have experienced mountain horses and mules, and will provide assistance with horsemanship to keep you safe and comfortable on your adventure. Their licensed guides are friendly, expert, and know the area in which they hunt very well.
Their elk hunting trips are set for seven days. Highly successful archery hunts are in September and even higher success rifle hunts occur in early October. It is highly likely that the bulls will still be bugling during the early October seasons. Camp consists of guest tents, a guide tent, and one large cook tent. The cook tent is set up comfortably and is the main gathering point early in the morning and in the evening. A full time cook and camp jack are in camp so that all camp chores are covered so that you can focus on the hunt.
Species and areas hunted
Elk
General Season Unit (Some limited quota hunts in units 067, 068, & 069)
Deer
Unit 128 (Region E)
Moose
Unit 6
Bighorn Sheep
Unit 9

Check out their website at Bugling Winds Outfitting or contact Hunters Trailhead for more details.

Back to Wyoming Hunting Guides