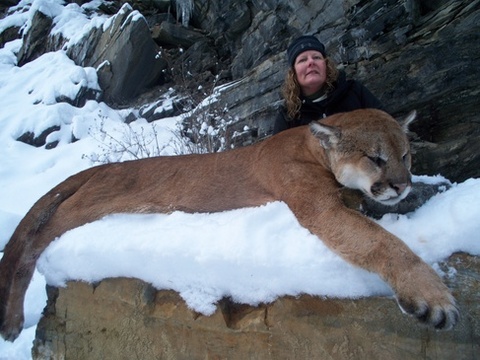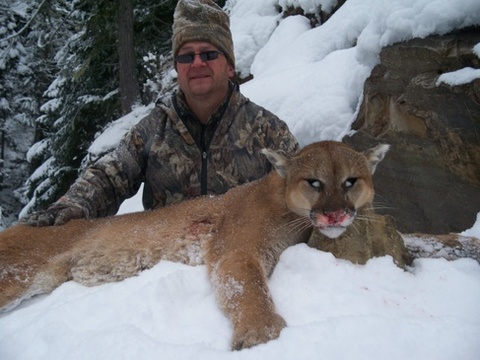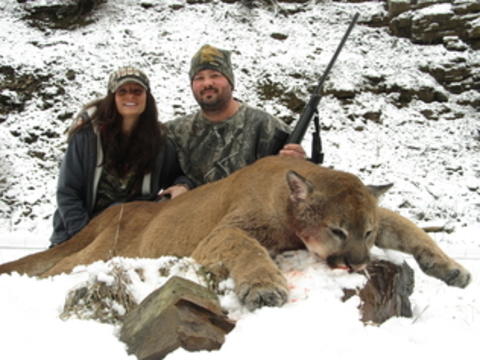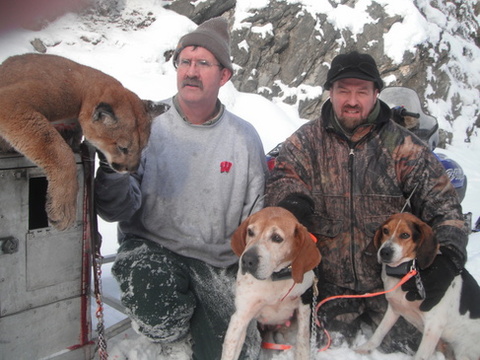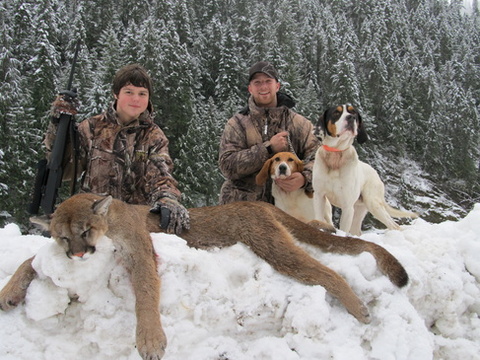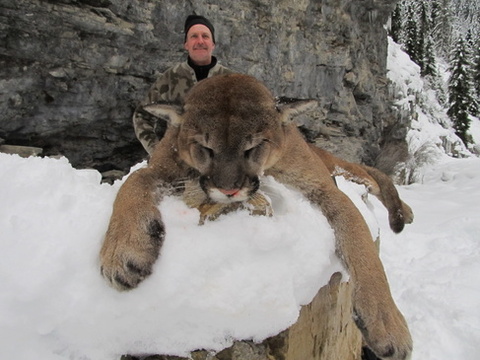 ID150C
More Hunts from this outfitter
Hunt Description
This cougar hunt is an amazing chance to see some beautiful country in northern Idaho and have a chance to harvest a mature cougar. This outfitter has a large amount of ground available to hunt. Ranging from high country to down lower so no matter what time of winter you want to hunt there is prime country available. Early in the winter when the animals have not moved down to the winter range there is plenty of country up high. Later in the winter when the animals have moved down there is still plenty of ground available.
You will meet your outfitter the day before your hunt actually begins so settle in and be ready for the morning. Your hunt starts early in the morning well before daylight. You will start covering ground looking for the a large fresh cougar track. Once the track has been found the dogs will go to work. They will follow the track until they have the cougar up a tree. Once it is up a tree you will hike to where they have to cat cornered and its your turn to perform. If you haven't had the chance to see these apex predators up close it is something everyone should experience.
This is a chance to experience one of the funnest and most intense hunts the west has to offer. You will be blown away by the entire package this hunt offers. Watching good hounds work a track is amazing. Couple that with the adrenaline rush of walking up on a tree with a full grown cougar in it and dogs at the bottom doing everything they can to get closer to the cat. If the isn't enough for you this outfitter wants all hunters to have a wolf tag in their pocket so if the chance to harvest a land shark presents its self you will be ready.
If this hunt sound like something you are interested in please give us a call or send us an email and we can help make this dream hunt a reality
Weapon
Archery, Rifle
Date Duration
5 Days December-February
Animal Quality
150-180lb+
Permit License Pricing
Hunting license $154
Cougar permit $41.75
Wolf permit $41.75
Permit Method
Over The Counter
Price
$6,000
Included
This hunt includes all meals, lodging, transportation during the hunt, caping of the animal in the field. Pick up from airport in either Spokane Washington or Missoula Montana can be arranged for a $400 fee.
Not Included
Transportation to and from camp, taxidermy, shipping of trophies and gratuities. Any hotels that are required in Spokane Wa or Missoula Mt.
Closest Airport
Spokane Washington
Missoula Montana
Phone
801-979-8843 (Jon)
435-650-8531(Jake)
Quick Contact