HUNTERSTRAILHEAD APPLICATION SERVICES
Our clients have drawn some of the toughest tags in the country! We want to help you do the same.

---
To begin, it is a quick and simple process. Your applications will be safely in our experienced hands in just a few minutes.

Alaska
Arizona
California
Colorado
Idaho
Iowa
Kansas
Kentucky
Maine
Montana

Nevada
New Mexico
North Dakota
Oregon
Pennsylvania
Texas
Utah
Washington
Wyoming
Why Use HuntersTrailhead
The HuntersTrailhead Application Service is a simple cost effective and full service program that has cut through the complicated state processes for you. There is no need to spend hours researching and studying how to submit your applications in each state. We take care of all of that for you. We will submit your applications for as few or for as many states and species you want. Then when you draw the tag, if you are looking to hire the services of a guide, we have an extensive list of outfitters we can work with.

We offer the most cost effective application service of any in the industry. All you will pay is a simple low rate for each species application. There is no reason to pay huge floating or service fees the other guys charge. There are no hidden costs or attempts to convince you that you are making big savings when that's not really true. HuntersTrailhead Application Service prides ourselves on honest, reliable and straight up service.

$25 Per State
Includes 1 species.
Add $10
Each additional species.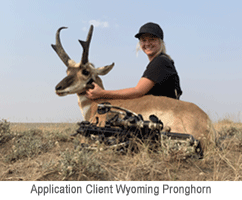 Application Consulting
If you are not sure where to apply or need help developing an application strategy, you can rely on our expertise and knowledge when making those decisions. We are always available to our application clients and can give advice on what states, species and units are best suited to your objectives. Portfolio Access
As always, our application experts will be available to help when ever you need to call, but our application clients have complete access to their application selections. Login and change or modify your portfolio at any time. Add to it, change your selections or modify your species instructions when ever your life situation changes. If you draw a tag early in the year and can't risk drawing another, simply access your portfolio and change all remaining applications to points only.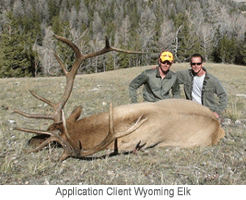 | | |
| --- | --- |
| | or contact a HuntersTrailhead Application Service specialist. 801-979-8843 |
Don't Wait. It may take some time.
We encourage you not to wait. If you can't hunt for a few years, simply purchase points until you are ready. We will make sure that you are in the best possible situation when you are ready to pull the trigger on your dream hunt. To get started simply access our portfolio build system by clicking the build button. We will collect the information needed to setup your account in each state. You can then select the states and species you wish to apply for. You will be contacted for some information that for security purposes we never store electronically. From there, it is in our hands. We will submit your application on time and to your instructions. Let us help you draw your dream tag! "You will never draw the tag you don't apply for".